Deprecated: Function eregi_replace() is deprecated in /www/htdocs/v027206/newssystem/parse/module_print.php on line 65

Deprecated: Function eregi() is deprecated in /www/htdocs/v027206/newssystem/parse/module_print.php on line 67

Deprecated: Function eregi() is deprecated in /www/htdocs/v027206/newssystem/parse/module_print.php on line 67

Deprecated: preg_replace(): The /e modifier is deprecated, use preg_replace_callback instead in /www/htdocs/v027206/newssystem/parse/module_print.php on line 68

Deprecated: preg_replace(): The /e modifier is deprecated, use preg_replace_callback instead in /www/htdocs/v027206/newssystem/parse/parser.php on line 170

Deprecated: preg_replace(): The /e modifier is deprecated, use preg_replace_callback instead in /www/htdocs/v027206/newssystem/parse/parser.php on line 171


FSV2000
---
Mittwoch - Mai - 16.05.2018 - 10:17 Uhr
Royal Flying Doctor Service 90th Year Air Pilgrimage
Kerry Skyring schick mir fast jden Tag ein paar Zeilen und Bilder von seinem kleinen Trip, nach Rücksprache mit ihm will ich seine Berichte hier online stellen, die Reise ist durchaus sehenswert ......

Long flight to the deep north ...
or the more prosaic Royal Flying Doctor Service 90th Year Air Pilgrimage. https://www.flyingdoctor.org.au/events/90th-pilgrimage/

As we head north the plan is to slip some text and a few pics into your inboxes every couple of days. Like all plans, especially flight plans, this one could be amended to suit circumstances but, magnetos willing, an Auster will depart Kempsey NSW on Tuesday 8th May to join 23 other aged machines at Dubbo. On Wednesday the flock of of old crocks departs for 8 days and around 1,500 nautical miles of flying Northish to Mt Isa.
The plane is Graeme Smith's VH-BYM, a 1953 Auster J5F Aiglet. It's the relatively rare aerobatic model although this feature will only be turned on for special occasions. I'll try to post something, airmail of course, from Dubbo.
Below is a pic of the plane and a rough idea of the route but for some reason Roma is missing. We'll get it right on the day. The return trip is yet to be plotted.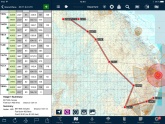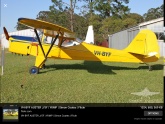 This should catch the early morning mail plane out of Dubbo. It will get a little hectic soon as the full fleet prepares to depart for Moree via Coonamble. Our launch from Kempsey was successful with all 8 spark plugs staying on song across some intimidating mountains and bush. "It's best if you don't look down" was Graeme's advice.
We dropped into Mudgee to top up the tanks. Having flown for 2 hours with no sign of another plane we arrived over the field at exactly the same time as three other vintage planes, all from different departure points. It could never be coordinated. Swapped seats at Mudgee and I managed to find Dubbo by following two Tiger Moths.
The chances of three yellow vintage planes arriving simultaneously from different directions? The universe cane be a scary place.




Moree, a town surrounded by very large brown paddocks, will be remembered not for those cotton fields but for the excellence of the CWA (Country Womens Association) ladies baking. What a lunch! Should they bother to apply they would storm through the Great British Bake-off.
My turn to steer today and that included the border crossing from NSW into Qld - at a point only a few paddocks distant from an earlier Auster adventure - the paddock landing of KAL after a valve ventilated a cylinder. This time the valves kept their seats and we sallied through at 4,000 ft and 73 knots groundspeed into a playful northerly breeze. Surat passed below and Roma appeared at the expected time and location.
We were closely followed into the circuit by Mike (wombat) Cleaver also in an Auster J5F. Soon after crossing the Moonie oil fields around the Qld border Mike noticed oil entering the cockpit; in fact he was soon showering in the lovely black stuff. "Eureka" he thought, "it's a gusher sending oil 3,000 feet up. I'll be rich!" Further investigation revealed a cracked oil pressure gauge line which might sound serious but in the big scheme of things that can go wrong is only half way up the scale.
Roma has turned on traditional country hospitality with a steady stream of visitors to see the planes and ask questions. Politeness and friendliness blows around here like the tufts of spinifex grass. Tonight we will support the Isolated Children's Parents Association at a reception and tomorrow we will rise with the crows and cockatoos and set course for Charleville, a place rich in RFDS history. I'll try to put something on the mail plane but if I should miss it there will be another chance in Longreach.
Somewhere near the NSW/QLD border. These paddocks look a lot like the other million paddocks we have seen.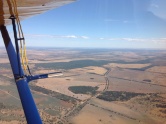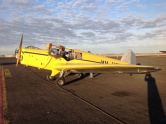 We're in Longreach, birthplace of Qantas and a real outback town. But first a small digression. Would The Aussies on this list please forgive me for stating the obvious. Would those in the northern hemisphere please forgive references to places and events which might as well be on another planet.
Roma was full of bottle trees but we could not find the opener so instead went to the Big Rig to be fed and to learn about a remarkable time when someone digging for water found gas. Bloody disappointing, especially when the gas caught fire and burnt for three weeks. I think there was a happy ending as the town prospered and does to this day.
Departing Roma, Graeme was Pilot in Charge of finding Charleville. This involved flying a westerly heading for a couple of hours while following a road and railway line. Relieved of map reading duty we made a point of flying (legally) down the main streets of towns. There's been quite a bit of publicity about this event so we figured we'd be forgiven this small disturbance of the peace as the sound the Auster produces is exactly the same sound as the flying Doctor's plane of the 30's and 40's - the venerable DH Gipsy Major.
And those towns. Take Mitchell, named after a Scot who wandered this wilderness naming things. There's the town, a river, a cockatoo, a grass, a suburb, a train and a mouse all named by or after this canny surveyor. Crikey! However Mitchell, as a name, is mundane compared to gems such as: Bungeworgorat, Muckadilla and Dubbydilla. The locals like to insert the great Australian adjective into the middle of these names so that Muckadilla becomes Muck-a-bloody-dilla. Colorful if not helpful when yer not from round these parts.
And so on to Charleville with an airfield dating from the earliest days of flying and where the Royal Flying Doctor still serves a vast area of the outback with a fleet of Beech Kingairs and a team of doctors, pilots, nurses and support staff whose skill, dedication and hospitality defies adjectives. As we were tucking into the hangar BBQ a call came in, the King Air was pushed out and off they flew into the darkness. Heroes and heroines.
Time to stop, shower and shave. Some pics. - Man with Aeroplane Beard and Hat. Aka Graeme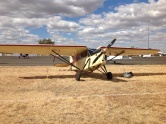 It's Monday morning and after a rest day in Longreach we're preparing for the flight to Winton. The run in from Charleville on Saturday was through eight eights blue above cattle stations as large as Denmark and large swathes of scrub. We were pushed along by a strong southerly meaning record breaking Auster ground speeds of up to 115 knots. The payback came at Longreach which has just one runway and obviously it was the wrong runway. On Tarmac, in more than a 12 knot crosswind, BYF cannot be kept on the straight and narrow. We had about 16 gusty knots. I opted for the grass and though it was rough all went well.
This is proper "sunburnt country" where drought and flooding plains create the landscape and form the character. For the non-Aussies on this list the great Australian bush legends, and a few myths, were created around here. This is where the swagman jumped into the billabong and the squatter squatted on vast tracts of land. The wealth from the wool of many jumbucks led the squatter to adopt the title pastoralist and ride a thoroughbred. Now we sit around the campfire and sing the song. It's most important to sing the last verse slowly and softly out of respect for the poor swagman who would never get to ride a thoroughbred let alone finish his mug of billy tea.
Yesterday a good crowd of locals came to see the planes and tell us about their drought and how the jumbucks and shearing sheds are now, like the swagman, mostly history. It's cattle country. The evening saw us at the Qantas Founders Museum to meet the mayor and respectfully suggest a cross strip would be a great asset to Longreach airport. We dined on the finest of steak while Qantas plane No. 1, the Avro 504K, swung from the ceiling above. The RFDS organisation continues to impress and as we share stories, repair broken bits and head further north it begins to feel like we could do this forever. Maybe not. Ludwig Leichardt is still out there somewhere.
Next report from somewhere up the track where we have an appointment with the governor of Queensland. We'll question him on his fly reduction policies.
Austers queue for fuel at Longreach.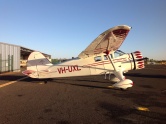 A quick update. After a two hour flight from Winton we are now at Cloncurry, the place where the Flying Doctor Service was founded In 1928. On Thursday, 90 years to the day, we will fly the route of the first flight from here to Julia Creek; about a one hour flight. After the media pics and interviews we depart for Mt Isa, the end of the pilgrimage.
We are now 20 aircraft, four having had to depart due to work commitments. All have remained serviceable or were quickly returned to service as problems arose. A Tiger Moth which was caught in the strong gusting crosswind at Longreach ended up on its nose and suffered a broken propeller. A replacement prop was flown in and he's now back with us.
I'd like to slip in a few statistics on the remarkable RFDS.
Each day, on average, the planes travel 73,000 kilometers and conduct 211 landings. There will be contact with 800 patients and 117 of them will be transported. That's an average DAY!
There are 67 aircraft: 34 Beechcraft King Airs of various models; 32 Pilatus PC-12, 2 Cessna Grand Caravans and 1 Hawker 800XP.
The first flight in 1928 was in a DH 50 Biplane, leased from the fledgling Qantas. Captain Arthur Affleck flew Dr Kenyon St Vincent-Welsch the 85 miles to operate on an injured stockman at the Bush Nursing Home.
The RFDS photographer travelling with us has been uploading photos and videos here: https://www.flyingdoctor.org.au/events/90th-pilgrimage/
The next two days are busy so I'll report in from the finish in Mt Isa.
Between Longreach and Mt Isa - the water shed where rivers begin flowing north into the Gulf instead of south into Lake Eyre or the Darling/Murray system.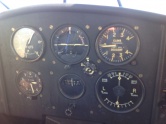 ---
Geschrieben von: Wolfgang Gockert